Tokyo

16:25:53
2015/12/28
Exchange Rate (Display Only):

1USD : 148.41JPY
1EUR : 157.96JPY
Buy direct from Japan with BuyJapon. Japanese Auction & Online Shopping Service.
Buy direct from Japan with BuyJapon.
Japanese Auction & Online Shopping Service.
Search by Category
1.REGISTRATION
Registering on BuyJapon.com is free! Make your own account today!
Click on the Free Registration Banner and complete the User Registration Form. Then you will receive an email to activate your account.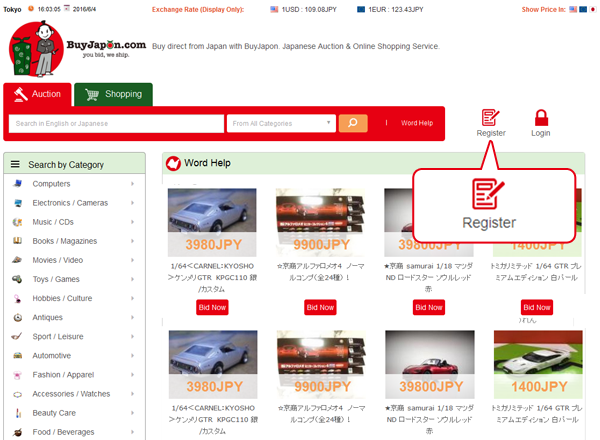 ---
2.SEARCH
Find what you are looking for in English and Japanese. Ex) If you are looking for a Liz Lisa skirt,
1

Put the words in English as "Liz Lisa skirt" or Japanese.

2

Choose the Category "Fashion/Apparel".

3

Then click on "Search".

4

If you are not sure the word, you can use the dictionary here.
Tips 1
In the searching results, you can find the searching words in Japanese. Copy them and paste it in the Searching Window, you may get more results, because you have searched in Japanese actually!.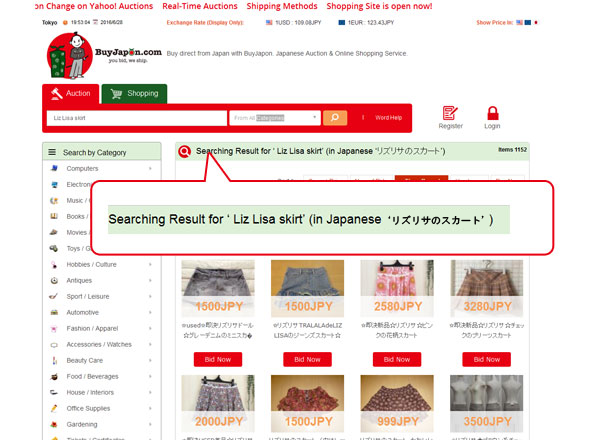 Tips 2
If you dont find any results, you can use Word Help as well.
1

By clicking on リズリサ (Liz Lisa), you can get Liz Lisas from all Category.

2

Click on a picture of any skirts. Then click on the link of "skirt" on the item..

3

Finally you can get 100s of Liz Lisa skirts.
---
3.BIDDING
Deposit and place your bid on what you want to have.
There are styles of auctions. One is the simple auction style. The other is the "buyout" style. Example
1

If you want to have it as small budget as possible, click on "Bid Now" and enter your maximum bidding budget.

2

If you like to purchase it, click on "Buy It Now". Then place your bid!
In case your deposit balance cannot afford the bidding amount,you will be asked to make a deposit process.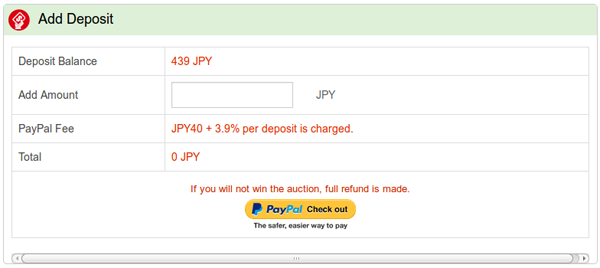 ---
4.HAVE ITEM SHIPPED
Make sure enough deposit balance is remained in your account.
1. If you win the auction, our system debits the Commission Fee, Bank Fee, Domestic Delivery Charge and BuyJapon.com processes shipping with the seller.
(If you didn't win the auction, full refund is made to your deposit balance.)
2. When the item arrives at Buyjapon, we inspect and update the Status to "Ready to Ship".
3. You can combine as many "Ready to Ship" items as you would like to.





4. Buyjapon packs the items accrodingly.
5. You can choose a shipping method for the parcel and pay for it.