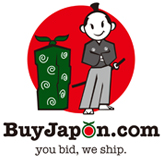 [UPDATED Aug 11]
Dear Various Customers
Thank you for visiting BuyJapon.com.
We expected to launch the new site by Aug 4
and postponed it to Aug 11,
however, as it has been taking many processes,
we expect to complete the whole process by Aug 14.
We are very sorry for the inconvenience, but
customers' security is the most important issue to us.
Please kindly understand the situation and be patient.
We hope you understand the situation and
thank you for your understanding in advance.
BuyJapon.com